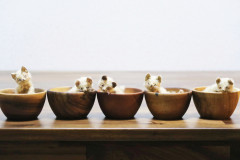 HARU BEAR
マツノハルミ Harumi MATSUNO
テディベア制作の技法でベアやアニマルを制作。
作品はすべて、おとなの方の観賞用として制作しております。お子様のおもちゃとしての機能は備えておりません。 
Artist. I make Teddy Bears and Stuffed Animals.
All my works are not toys and not for children.
2009年よりオリジナルテディベアブランド「HARU factory」として活動を開始。
2016年2月、ブランド名を「HARU BEAR」へ変更。
ジャパンテディベアフェスティバル(東京、京都)、日本テディベアコンベンション(東京)、FANTANIMA!(東京)などのイベントへ参加。
2012年 第20回テディベアコンテスト(JBTA)新人賞
2013年 第21回テディベアコンテスト(JTBA)カテゴリーA 銅賞
I started my original teddy bear brand, "HARU factory", from 2009.
I changed the brand name to "HARU BEAR" in February 2016.
I have made submissions at various exhibitions for several years.
【Main exhibitions】
・Teddy Bear Festival (Tokyo,Kyoto)
・Teddy Bear with Friends Convention (Tokyo)
・FANTANIMA! (Tokyo)
2012: 20th Teddy Bear Contest (JBTA), New Face Award
2013: 21st Teddy Bear Contest (JBTA), (Category A) Bronze Prize